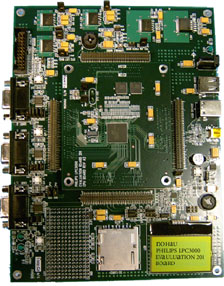 ---

If you have lost or did not recvieve the LPC3000 Evaluation Board Supplemental CD with your board, you can send an E-Mail request to support@icetech.com requesting information on how to download it.
Specification overview: 

Download the Evaluation boards user guide here !

Philips LPC3180 microcontroller
A Single power supply input (5.0V), regulated on board to provide all the necessary EVB voltages.
User Reset pushbutton switch.
20 Way JTAG/ETB connector.
32M (8M x 32) Bytes of SDRAM.
32M (32M x 8) Bytes of NAND FLASH.
1 - LCD Module with Philips PCF8558 built in.
1 - SD Card connector.
3 - USB connectors (USB A Receptacle Connector for USB Host; USB B Receptacle Connector for USB Device; USB Mini AB Receptacle Connector for USB OTG) with Philips ISP1301.
3 - UART (RS232) physical interface circuits connected to standard PC style DB9 female connectors.
4 - 80 pin break-out headers, to provide easy access to many of the microcontroller pins.
4 - User input pushbutton switches.
2 - User output LEDs.
Small prototyping area consisting of an area of 0.1 inch spaced through holes with easy access to ground and 3.0V, 1.8V power supply points.


Our prices: